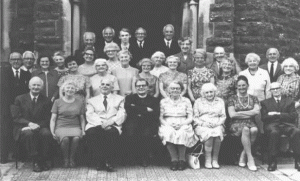 Paignton Methodist Church
In 1969 the Revd Arnold Bellwood and his wife Janet arrived at Palace Avenue. No controversy too difficult, no situation either literally or physically too dirty, Arnold Bellwood would be found where he was needed most. One day he might be attending a national council, the next at the local police station or law court, or maybe at a bedside. It could be anywhere – except his own armchair. A fellow-minister, a Bishop or an Abbot was introduced as "my friend and colleague." It was he who innovated the widespread use of Christian names. At first this shocked some people, but the effect of the extended family was noticeable.
Janet Bellwood was a member without par. Her alto voice was an asset to the choir. She also introduced a more modern and spectacular style of flower arranging.
There would be new ventures in the church too. Modern hymns were being introduced. People attending services were less formally dressed. The pace of life was quickening.
Rev and Mrs Arnold Bellwood "retired" in the 1970's and went on to work with a charity for yourg people with problems which was close to their hearts, The Langley Trust.